Yalla Mediterranean
Grilled to Order
Mediterranean Specialties
The Yalla team came to us with a logo, it's first already successful test location and over 40 properties ready to convert to a grilled-to-order Mediterranean concept. We took it from there to refine their mark and bring the brand to life, touching every aspect of the experience. We worked closely with the seasoned operations, executive and marketing teams to achieve their vision of affordable, healthy, fast-casual Mediterranean fare.
Iconography
We developed a series of icon sets with a focus on fresh herbs and veggies. We were struck by Yalla's tiny pantry from our first visit. Instead of shelves full of canned and pre-packaged goods, their back-of-house is designed with plenty of cold storage. This is where fresh ingredients from local sources get stored and prepped every morning for house-made salads, sauces and seasoning for their meats. The fresh herbs and flavors wind their way throughout the brand in photography and graphic treatments as a reinforcement of Yalla's commitment to their concept.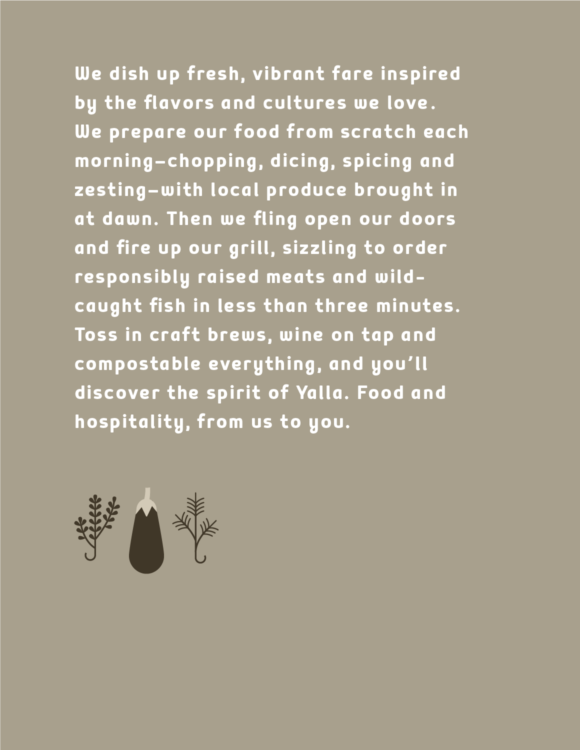 The Environments
One of the key features the Yalla team wanted to integrate into every store, is a a fresh herb wall. These herb walls visually demonstrate the variety of flavors and the freshness of the food. We created a campaign for these walls to convey Yalla's philosophy in a quickly digestible way. This series of graphics change up between locations to allow individual personality at each location and accommodate community specific info.
Collateral & Packaging
We developed a robust set of food packaging and collateral for catering and takeout, as well a variety of menus, menuboards and store materials.